One of my favourites vegetables when the temperature is too hot is tomatoes. Remember the Filled tomatoes recipe I've already published? Here's the summer version, a fresh and easy recipe for a finger food that will suit every garden or beach party.
Pomodori ripieni – summer version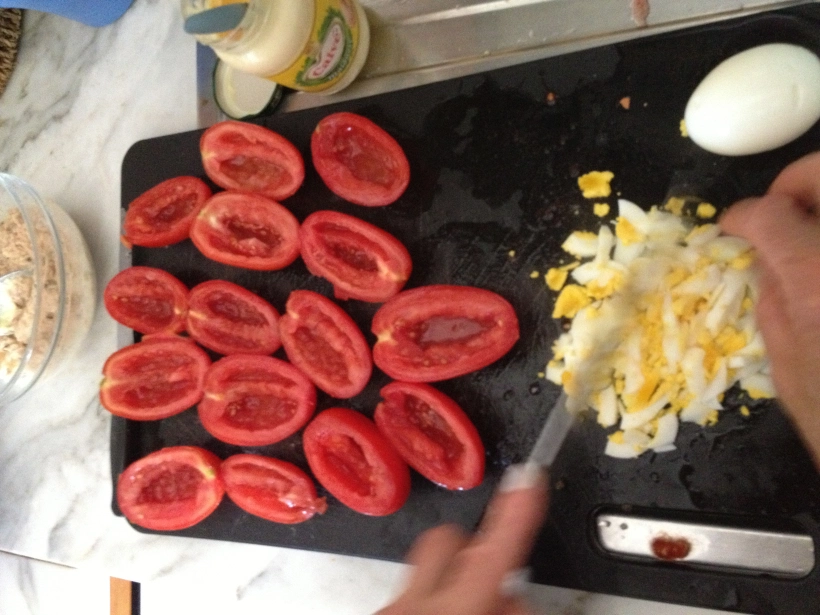 What you need
7 red tomatoes (San Marzano, the long ones)
150 g of tuna in olive oil
2 eggs
1 handful of capers
Mayo
Extra virgin olive oil
Salt
How to prepare
Boil some water in a small pan and cook two hard eggs. Wash well the tomatoes and cut them in two parts for the long side. With a little spoon remove the interior part of the tomato and put in on a side. You should have 14 red boats: dispose them on a large dish with the round side downwards. Now it's the time of the filling. Drain the tuna and put in a bowl with the interior part of the tomatoes. Add the hard-cooked eggs cut in small pieces, a handful of mince capers, salt and some mayo (just a little bit, a couple of spoons). Mix with a fork and fill the tomatoes. Put it in the fridge for half an hour and your finger food is ready.