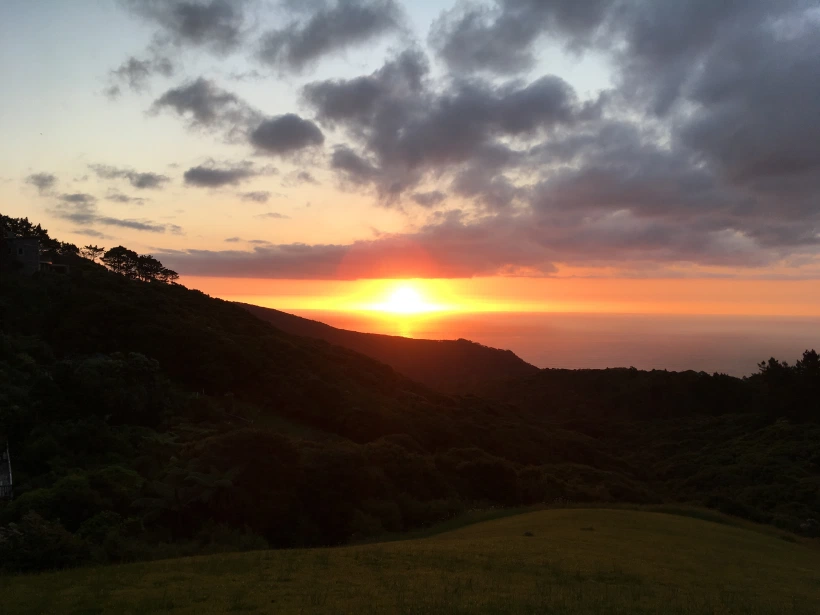 Luxury retreat in protected regional park Waitakere Ranges on Auckland's West Coast with natural waterfalls, private swimming hole and easy bush walk to world famous Karekare Beach
Plunge yourself in the wild peace of a protected forest with spectacular views of one of the most iconic beaches in the world. Immersed in the regional park Waitakere Ranges, Sacred Earth Retreat will surprise your senses with calming waterfalls, rock pools, hiking trails, native birdlife and idyllic green surroundings. Offering private luxury lodges and a dream-like environment, it's the ultimate destination for a relaxing escape.
A light breeze through the bush, the rough sound of the ocean, the extravagant concert of native birds, the bitter smell of Manuka trees, a heart-opening sunset. As the mind finds its inner balance, time floats quiet and slow following the rhythm of the earth. Only 40 mins drive from the city and 15 to busy Piha Beach, it feels like being in the middle of a magic land. It's exactly what you need to rest.
Hidden in nature with magnetic views on the scenic coastline, the three eco-friendly guest houses feature fully equipped kitchens, private hot tub, indoor fireplace, open wooden decks and just 14 rooms, comfortably accommodating up to 19 people. Attention to details makes the difference. Crystals, spiritual home ornaments, plenty of cushions to lie on and a warm earthy asian decor will add glam to your stay.
Sitting on a hill facing the ocean, there is a temple. Here, early birds can enjoy daily meditation and chantings, and get in contact with a welcoming spiritual community that shares fulfilling messages of love and compassion common to all religions and peoples. No worries if you enjoy to sleep in, the temple is always open, providing mats, pillows and yoga classes upon request. You might also get the chance to participate in a spiritual sound journey at sunset, an opportunity to give your mind a break, leave your body and clear your soul through vibrations, in an intense dreaming state.
The black sand of the volcanic Karekare Beach is at your doorstep and the easy hike down the valley makes the walk on the shore even more desirable. If you feel brave, a surf school and exciting canyoning adventures close by will challenge your balance. Make sure you always wear togs, there are plenty of opportunities to swim, either in the ocean or in the river. On the way down the hill, a glittering stream, waterfalls and refreshing natural pools pop up among the stunning Kauri, New Zealand's tallest and oldest trees, and the massive roots of Rata trees. In the huge protected land of Waitakere Ranges regional park, birds such as the Tui, the Ruru, the rare little parrot Kakariki and the Wood Pigeon Kereru peacefully sing their freedom. Every step is an invite to know more about the land, its creatures, its native plants and powerful medicinal herbs like the surprisingly abundant Kawa Kawa, Manuka trees and unfolding Ponga Ferns.
Owners Jenny and Phil had the idea on one of their travels in India and when a friend invited them to come over to their new house in Karekare, they just knew this was the place. "Our purpose was to create a quiet relaxing context where people could connect with nature, find peace with their inner self and be happy", says Jenny with shining eyes. Over 25 years and a lot of passionate work later, the dream is alive. "This place is full of energy". You feel it coming from the roaring ocean, blowing through the trees, raising from the grass and spreading towards the sun. In a quiet glade surrounded by bushland, a Pou celebrates this sacred flow depicting the story of creation. This extraordinary traditional Maori carving was crafted from ancient Tatara wood by Matua Louis Kereopa in four months and gifted to Sacred Earth in April 2017. Like a canoe traveling from the spiritual world to the centre of the earth, this artwork is the treasure of the retreat.
Looking at the coloured clouds that paint the sky at every sunset, you will wonder why you don't move here permanently or just stay a little longer. Not surprisingly, a unique community of creatives and spiritual souls gathers in the area, living in the beauty of nature, sharing energies and offering a variety of services on request. This is why, while you enjoy this paradise, you can consider treatments such as integrative massage and aromatherapy, detox and fasting programs, yoga classes, raw and whole food cooking classes. Follow your instinct, you could find inspiration through guided bush walks with teachings about native trees, plant essence healing, spiritual healing and reiki, astrology consultations and alchemy workshops, crystal jewelry and custom talismans.
Breathe deeply, enjoy the silence, feel the energy of the nature, make it yours. This place is the magical setting for a life-changing experience.