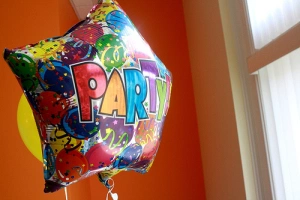 Hundreds of coloured balloons, cartoons decorations, extravagant make-up, odd sunglasses and fancy dresses are all around. Outside the shop, the panel says: "Party-Party". Inside, a waitress wearing Irish-fairy-wings instructs me: "The manager is upstairs."
In a tiny room surrounded by fulfilled shelves, a man with a white sailor-hat is sorting out some muffin tins. He smiles at me and said, "Just a minute, we're very busy in these days," and turns to give a woman an 18inch-serving dish for a birthday dessert.
Francois is a party-man from the North-east of France, who came to London for a two-weeks holiday in 1997, and never moved back.
He wants me to guess his age and his peppy face lights up as he confirms,         "I'll be 30 in May." He is planning a smashing night, I bet.
Manager of the "Party-Party" shop in Kilburn since 2007, Francois has been working for ten years in the other branch of Dorsten, before the promotion.
"My first period in London was hard: I'd been homeless for a couple of weeks and worked as a kitchen cleaner, porter, hotel-receptionist…" Then, 12-years ago he came across this shop "by accident", and here we are. "I'm lucky: even if it's tiring, I love my job," he says, laughing.
Helping people to organize parties is a curious way to participate to their celebrations and have fun at work. Excitement is in the air.
Jesus, policeman, pharaoh, mermaid, ladybird, gorilla, pimp daddy, nun,    disco-night-80s are only a few of the fancy dresses hanging on the wall.
Francois grins when I ask him which are the funniest costumes they have: he stops thinking a while, his eyes scanning the top-left corner of the room.
"My favourite is the banana-man: it's not very practical, but it's original," he says. But it's unlikely that people choose unusual characters. "Men usually take the escaped prisoner or the priest, while women are more demanding because they want to look pretty as well," he says, shaking his head amazed. "The best one is the bunny-girl, but it's so short!"
After 12 years here, working nine to six Monday to Saturday, Francois still likes to speak about parties. "I'm always invited to my clients' events and I would surely go, if I had time."
The busiest period starts from Halloween, where people literally "queue outside and inside the shop", and continues with Christmas and New Years Eve. A short breath in January, where the sale of cake decorations balances the revenues – fortunately, birthdays are all the year round – and again another hard month, with Carnival followed by St Patrick.
"This week there's also the red nose day, and we've sold out all the noses – that's why you can't see any of them around." Then, there will be Easter, school parties for children and summer celebrations. "There's always something," he says, faithfully.
He fixes his sailor-hat and disappears among the shelves of cake decorations and cake decorations and cookie cutters. On my way out, I read a panel at the main door: "waiter wanted." I admit – I thought about it, for a while.