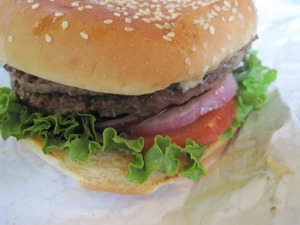 The image of a person eating a massive burger can do crazy jokes sometimes – like making a healthy-maniac having a hearty lunch in the middle of a sunny afternoon.
We were walking around the centre of Florence at 4 pm on Saturday and as we bumped into via dell'Acqua, the hunger took control of both of us: we couldn't resister to the smell of burgers and the sight of a large dish of pithy meat on a table outside The Diner.
All it took was a glance at my partner and we were in. Pink floors, red benches and white lamps made the small room look very movie-like and totally American.
We sat at a little white table close to the door, rapidly scanned the menus and ordered our meals. Bagel with smoked salmon and cream cheese for me and a bacon cheeseburger for my partner, both sided by a huge portion of homemade chips. When the smiling waitress brought us our two large dishes, I thought we couldn't be in Italy.
"Tuscan meat in an American-style bread: that's massive," said my partner between the first and the second bite of his saucy lunch. My salmon was thick and tasteful, while the cheese made everything very creamy. Moreover, potatoes were almost addictive and the skewer of pineapple with strawberries that came with my dish was a pleasant way to stop eating them. Now I understand why they gave me.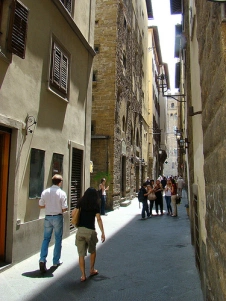 Other five tables were full of people having lunch in the middle of the afternoon – like us – and nobody seemed to be embarrassed. After a while, I realized that half the room was speaking in English. "You know, apart from the mass of tourists that fills the city centre all the time, there's a lot of Americans here in Florence," told me my partner, "and one of the American Universities is right behind the corner…" That's why this place exists – and works.
Prices were almost cheap, considering the size of portions: burgers from 7.50€ and 5€ for any bagel. Involved in this overseas atmosphere, we left a tip – nobody does it in Italy –, we took a coffee and promised to come back for a huge American breakfast.