In the land of fitness and sophisticated gyms, Giorgia Boitano enjoys a simple beach run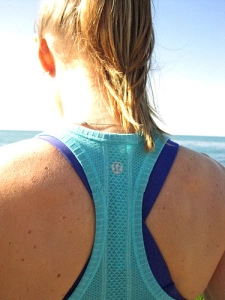 I take a deep breath, and the salty early morning air hits my lungs. I feel a slight chill as my naked foot touches the cool wet sand. The sun has just risen on Santa Monica and the sea is peppered with surfers, while the violet clouds of night slowly roll away. Groups of seabirds peck at the sand. Their loud cackle reminds me of my goal: run. I quickly set up my stopwatch, shake my ponytail, and I'm ready to go.
One leg after the other, I keep my eyes on the endless sweep of sand in front of me and begin to find an inner peace. Plunged into this postcard scene, I forget the fatigue of my muscles working hard on the soft surface. Who said that training in hi-tech gyms is the only way to get fit? A healthy run along the ocean is much more motivating – especially when it's this beautiful.
I'm not the only one who starts active today. As I step on the humid beach, a couple of beefy peroxide blond men pass me. "See ya later, sweetie!" one of them shouts to a skinny girl doing yoga on a pink towel. A wrinkled woman with sunglasses appears in front of me, drinking while she jogs in the opposite direction. I can see her smiling as we pass each other. I wonder how many kilometres her toned legs have done until now, and I hope I will have her determination in 30 years…
"Heya, how' you doin'?" a shout coming from a mass of coverts on my left diverts my attention. A homeless man with long white beard is emerging from his comfy sack. His sunburned skin and long white hair suggest that he has lived here a while. "Much better than a bench on a busy street," I hear him muttering as he stretches.
After immersing my feet in the cold water for a few hundred metres, I leave the foreshore to join the oceanfront walk towards Venice. Street performers are setting up their stands with paintings and musical instruments, while sellers are opening their shops: tattoos, t-shirts and souvenirs seem to be the most common around here.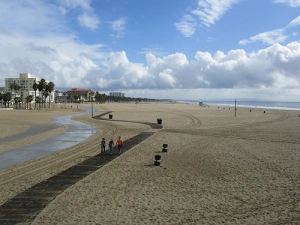 Through the tall and slim palm trees, I see Venice Beach Park, where skaters of all ages are rolling up and down the curved ramps. A street artist is drawing the face of a rapper on a grey wall: the multi-coloured murals seem to say, "Welcome to this cool area." Groups of bare-chested players are gathering on the basketball court, while a large crowd is getting ready to cheer them on.
I keep on running on the dry sand along the sidewalk. The sea is quite far from here and springing on such a spongy surface makes every step harder, but the sporty feel of this place is worth the sweat.
A bunch of bodybuilders are doing weights in the expensive open-air gym of Muscle Beach: oiled, hairless, super-toned bodies shine in the sunlight as they move in a fenced-in yard. Like lions in a circus, I can hear them roaring over their continuous efforts, as their trainers never stop encouraging them: "C'mon mate, just another one!"
Out at sea, the waves have become smaller, the sun is shining and surfers are slowly drifting to their cars – the white long boards on one side and peaceful smiles painted on their tanned faces. A mass of sunbathers is taking their place on the beach, carrying large parasols and mini-fridges to face the boiling hours of early afternoon. I wish I could ask them for an iced drink to relieve my arid mouth, but my watch is ticking and I can't stop.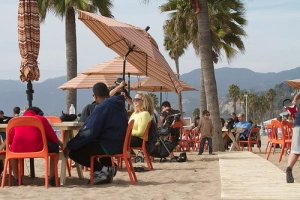 A mixture of organic and health cafes with fresh juices stand next to hyper-calorfic milkshakes and hot dog sellers on the main road. It seems a contradiction, but this is California, and there's place both for fried food and raw veggies. "Corn-dogs! Wanna try, babe?" yells a fat man behind a red stand. A fleshy woman is avidly biting a stuffed sandwich, and a drop of ketchup falls on her white shirt.
Thinking of all the calories in the hamburger I devoured yesterday in Los Angeles, I fasten my speed to remedy my gluttonous sin, and turn back to the sea again. The dry sand begins to burn the soles of my feet: the only thing I can do is run quicker to reach the water's edge. A few steps on the wet sand and I can start to breathe again.
Two helmeted police officers are getting off their blue quad-bikes to speak to a group of guys drinking beers on their towels. Their yells can be heard from far and after a few minutes I see them jumping on their bikes again and quickly disappearing into the distance.
My mind is wondering what happened to make those uniformed men angry, and I almost stumble on a large lump of seaweed lying on the foreshore. I notice it just in time to avoid an embarrassing – though funny – slip, and bypass it with a clumsy jump.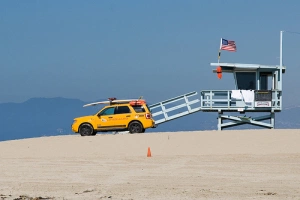 "Hot, isn't it?" a burly lifeguard shouts as I shoot past his pale-blue Baywatch house. I'd like to talk to him, but my feet keep going on the wet sand. I can see the skyline of the rollercoaster and the Ferris wheel on Santa Monica Pier, my finishing line. There is no way I would have the same motivation on a treadmill, facing a plasma screen.
I run the last few miles dreaming of a cold shower and a revitalising blueberry smoothie from Jamba Juice on Santa Monica Boulevard. As the timer clicks over one hour, I leap over a short wave, and finally dive in the blue ocean.