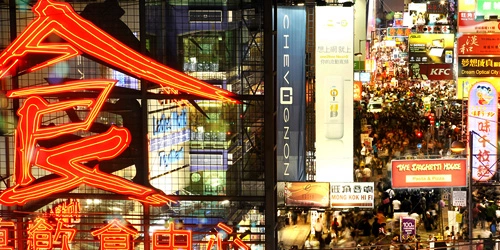 Eccentrica vetrina di una Cina sempre all'avanguardia, Hong Kong è una città frizzante in continuo movimento, dove lasciarsi trasportare tra grattacieli, ristoranti e vie dello shopping. Dai mercati allo street food, dai monasteri ai musei, c'è sempre un modo per divertirsi. Ecco 10 mosse per scoprirla.
1. Salire sul Viktoria Peak, la torre panoramica alta 522 metri, perfetta per scattare una foto della città.
2. Fare un giro a Nathan Road e immergersi nel spirito frenetico di Hong Kong. Da non perdere il leggendario Chunking Mansions.
3. Respirare aria di pace al monastero buddista Po Lin, uno tra i più belli della città.
4. Affascinarsi davanti all'arte calligrafica cinese al Hong Kong Museum of Arts.
5. Lasciarsi tentare da uno di migliori templi dello street food di Hong Kong, il mercato di Stanley street.
6. Spostarsi per la città con lo Star Ferry, il sistema di traghetti che collega le varie parti di Hong Kong dalla fine del 1800.
7. Shopping notturno tra le bancarelle del mercato di Temple Street, nel quartiere di Kowloon, a partire dalle 4 del pomeriggio fino a mezzanotte.
8. Prendersi una giornata fuori città e andare al Monastero dei Diecimila Buddha a Sha Tin, una un trionfo di statuette d'oro che rappresentano Buddha in diverse posizioni.
9. Guardare da lontano il Ponte Ting Kau, un gigante lungo 1177 metri che collega l'isola di Hong Kong, Kowlook e l'aeroporto ai Nuovi territori.
10. Alle 8 di sera, ammirare lo spettacolo Symphony of Lights, una scenografica performance di luci laser e musica che accende 44 grattacieli e monumenti che si trovano ai lati di Victoria Harbour.
Leggi il reportage su Latitudeslife.com
Vai alle altre 10cose