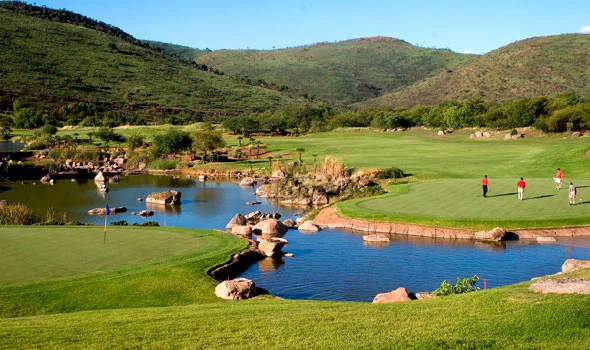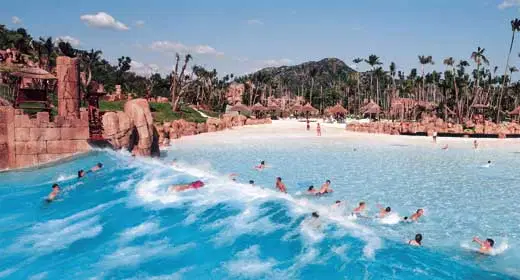 Costruita alla fine degli anni '70 come una piccola Las Vegas in Sudafrica, Sun City è una città resort dove tutto è a misura di turista: hotel di lusso, parchi divertimenti, campi da golf, laghi artificiali, casinò, auditorium, intrattenimento. Ecco come scoprirla in 10 mosse.
1. Svegliarsi all'alba e guardare la natura che si accende oltre le vetrate in stile african-chic della vostra camera d'hotel.
2. Safari in mongolfiera o a piedi nel Pilanesberg Park, che ospita 7mila animali di 24 specie diverse.
3. Giocare a golf al Lost City Country Club e guardare da lontano il lago della buca 13, dove vivono 38 coccodrilli. I più esperti, potranno anche provare l'emozione di lanciare la pallina al Gary Player Country Club, con uno dei percorsi più difficili del mondo che si snoda lungo i resti di un cratere di un vulcano.
4. Tentare la fortuna in uno dei due casinò della città, oppure imparare l'arte del gioco grazie alle lezioni della The Sun City School of Gaming.
5. Guardare i coccodrilli protetti nel Kwena Gardens Crocodile Sanctury, all'ingresso di Sun City.
6. Lanciarsi nel vuoto a 280 metri d'altezza per due km di carrucola Zipslide, percorrendo 2 km pieni di adrenalina a 120 km orari.
7. Ammirare i colori delle farfalle locali al Butterfly World.
8. Divertirsi sugli scivoli del parco acquatico e fare surf nella Roaring Lagune, piscina artificiale di 6500 metri quadri con tanto di spiaggia di sabbia, palme, ombrelloni e onde alte anche due metri.
9. Gita in quad per respirare la natura e sporcarsi un po' di polvere africana.
10. Lasciarsi coccolare dai trattamenti con erbe locali della Sun City Health Spa.
Articolo pubblicato su Latitudeslife.com
Leggi gli altri post 10cose