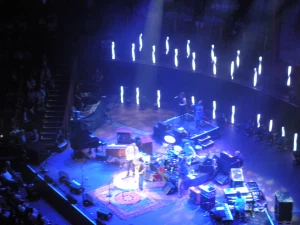 Hundreds of fans from all ages went wild with involving rock and blues, as Eric Clapton and Steve Winwood went on stage at the Royal Albert Hall last Wednesday.
After 9 nights of solo concerts at the Hall to present his 19th solo album – simply called 'Clapton' – Eric Clapton has reunited with former Blind Faith companion Steve Winwood for three special concerts. No doubts, it was an intriguing appointment for rock lovers'.
At 7 pm the line outside entrance number 6 was long and full of excited and well-dressed people, half of which were bringing chips and drinks to snack once they'd get inside. No business for ticket-sellers: everybody had already booked their place.
In such spectacular venue and after the success of the precedent shows, it wasn't easy to keep up with the high expectations of the public. But that didn't seem to be a problem.
The supporting band Andy Fairweather Low & The Low Riders prepared the audience with 45 minutes of humour and involving songs – including Amen Corner's 'If paradise is such as nice' – and finally the two 'big' took the stage.
Black t-shirt with green necklace, red shoes and messy hair for Eric and white large shirt and jeans for the more sober Steve. "Love you Eric," shouted a woman while the atmosphere went lower and the round light pointed the stage.
The hall filled as they started to play an outline that touched everything from century-old traditional brass-bands to little-known country blues to brand new originals and rock'n roll.
Winwood and Clapton changed repeatedly instruments during the show – it was impossible to guess which was the best performance of the two – and eventually commented some pieces to the audience. The result was very entertaining.
You could feel the perfect accordance among the band, composed by long-time touring partners Steve Gadd at the drums, Willie Weeks at the bass and an impressive Chris Stainton at the keyboards. As backing vocalists, Michelle John and Sharon White accompanied them from the top of the stage with powerful high notes and enjoyable dancing.
Among the most appreciated songs, Vodoo Chile, Hooche Cooche Man, Georgia – excellently played by Winwood at the piano – and Pearly Queen. The hall stood up as they heard Gimme Some Lovin' and a moment of frenzy spread together with one of the last songs, Cocaine, in which Steve gave us a wonderful assolo.
The audio was great even in the galleries, where it was easy to walk around and enjoy the dances.
We have been shaking during all the almost three hours-long concert: "Fantastic," said an excited woman who has been moving wildly next to us all the time. Sure, it was worth the £35 of the ticket.