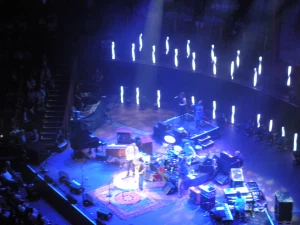 Hundreds of fans from all ages went wild with involving rock and blues, as Eric Clapton and Steve Winwood went on stage at the Royal Albert Hall last Wednesday.
After 9 nights of solo concerts at the Hall to present his 19th solo album – simply called 'Clapton' – Eric Clapton has reunited with former Blind Faith companion Steve Winwood for three special concerts. No doubts, it was an intriguing appointment for rock lovers'.
At 7 pm the line outside entrance number 6 was long and full of excited and well-dressed people, half of which were bringing chips and drinks to snack once they'd get inside. No business for ticket-sellers: everybody had already booked their place.
In such spectacular venue and after the success of the precedent shows, it wasn't easy to keep up with the high expectations of the public. But that didn't seem to be a problem.
The supporting band Andy Fairweather Low & The Low Riders prepared the audience with 45 minutes of humour and involving songs – including Amen Corner's 'If paradise is such as nice' – and finally the two 'big' took the stage.
Black t-shirt with green necklace, red shoes and messy hair for Eric and white large shirt and jeans for the more sober Steve. "Love you Eric," shouted a woman while the atmosphere went lower and the round light pointed the stage.
Continue reading "ERIC CLAPTON AND STEVE WINWOOD AT THE ROYAL ALBERT HALL" →