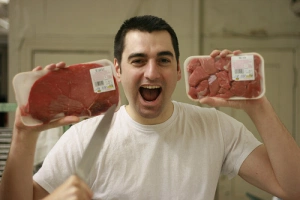 If you adore barbecue meat and boast about a resistant stomach, then go to Rodizio Rico, a traditional Brazilian churrascaria in Westbourne Grove, five minutes walk to Bayswater tube station.
Surely, you must be ready to eat a lot, and very quickly.
We went there without reservation at 8 on a Saturday evening and, luckily, there was a vacant table for three, right in front of the grill.
We sat in the main room, which looks bigger than it really is, because it's airy and simply organized. On one side there were four lines of wood tables with paper placemats, while on the other part there were the cashier, a rich buffet and the grill. At the bottom of the room there were other tables and the kitchen. The bar and other seats were in a large room downstairs, next to the toilets and another kitchen.
As we ordered some Brazilian beer – we choose Brahma, which tasted very light and refreshing – a friendly waitress gave us a round card with different colours on each side. It worked as a traffic light: "Show the green side if you want food and turn it to the red if you want to stop," she said, "and you can also have a break and start again a little later if you like."
We helped ourselves with row vegetables, rice, various sauces and some appetizing potato croquettes. Fortunately, we left some space in our dishes, because after a few bites the carnivorous marathon started.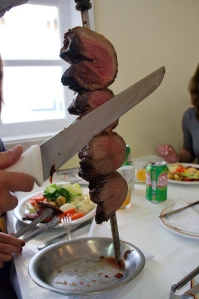 Three young and smiling waiters came around to our table one after the other with a long sward, from which they sliced various cuts of meat for each of us. Top beef fillet, salty lamb, pork fillet, pork steak, spicy sausage, chicken wings, bacon, cooked ham, chicken hearts, pork cutlets…
Every piece was tasteful, but I guess the beef was the most savoury, even without adding any dressing. It was so tender that we could cut it with the fork – actually, this was a mercy because our knives were totally forceless.
"Are you sure you don't want some more?" they asked every time, and went away sadly if we answered "no". Tempted by the ducky boys, we waited until we were filled to the brim before definitively stopping our meal, although with some regret.
We couldn't manage to eat any of the creamy dessert that other stronger customers were enjoying at the tables next to us, and just ordered some strong coffee and rest a bit before leaving.
Prices were quite cheap: each menu cost £23,50, including both the meat and buffet. Drinks were on top, because the bar offered also a wide choice of fresh and colourful cocktails, which are more expensive than our beer and water.
For booking and other information, see www.rodiziorico.com